Monday – Friday
6.00 – 7:00 pm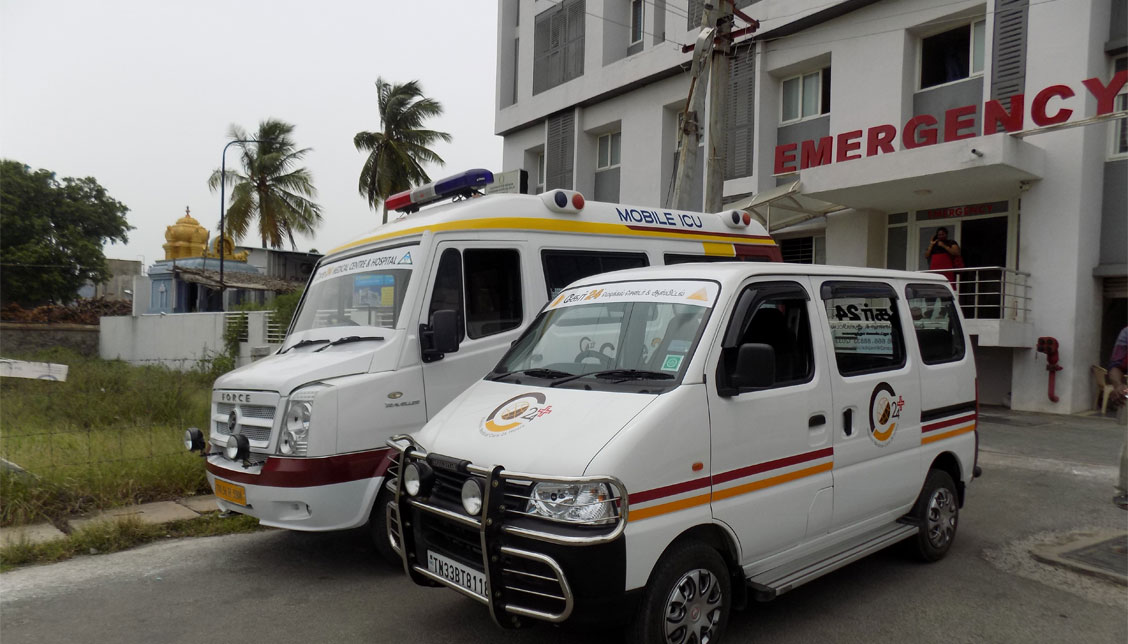 Emergency & Trauma Care
Department
Care24 has organized an expert trauma care team consisting of very senior medical consultants in the departments like Orthopedics, Neuro surgery, General surgery, plastic surgery, Cardiothoracic surgery and rehabilitation and physical medicine.
Our Hospital has extensive medical expertise, facilities and infra-structure to treat all kinds of trauma patients.
The emergency room is equipped and the doctors are well trained to handle disaster or mass casualties, including poly trauma cases with the help of standardized protocols and procedures.
Your health and well-being are our top priorities. Our dedicated team of medical professionals is here to provide exceptional emergency and trauma care when you need it most. And, we will explore our experienced staff, and commitment to delivering the highest standard of care during critical moments.
Our Emergency Department :
At Care 24 Hospital, we understand that emergencies can happen at any time. That's why our Emergency Department operates 24/7, ensuring that you receive prompt attention and expert care when you need it. Our facility is equipped with cutting-edge technology and staffed by a team of highly skilled physicians, nurses, and support staff who are trained to handle a wide range of medical emergencies.
Care 24 Hospital is proud to be a leading provider of trauma care in the region. Our trauma center is staffed by trauma surgeons, nurses, and support personnel who are experienced in managing critical injuries. We are equipped to handle all levels of trauma, from minor injuries to life-threatening situations.
Our trauma care services include:
Rapid assessment and stabilization of trauma patients.

Advanced imaging and diagnostic capabilities.

Collaboration with specialists in various medical fields.

Comprehensive rehabilitation services for post-trauma recovery.
Patient-Centered Approach :
At Care 24 Hospital, we believe in a patient-centered approach to emergency and trauma care. We understand that each patient is unique, and we tailor our treatments to meet individual needs. Our compassionate staff ensures that you and your loved ones are well-informed and comfortable throughout your stay with us.
Advanced Technology and Equipment :
To provide the highest quality care, Care 24 Hospital invests in state-of-the-art technology and equipment. Our advanced imaging systems, diagnostic tools, and surgical suites enable us to make rapid and accurate diagnoses, leading to better outcomes for our patients.
Collaboration and Multidisciplinary Care :
We take a collaborative approach to emergency and trauma care. Our team of experts works closely with specialists in various fields, including orthopedics, neurology, and cardiology, to provide comprehensive care for complex cases. This multidisciplinary approach ensures that all aspects of your health are considered during treatment.
Continual Training and Education:
To maintain our high standards of care, our medical staff undergoes continual training and education. This ensures that we stay up-to-date with the latest medical advancements and techniques, providing you with the best possible care.
When it comes to emergency and trauma care, Care 24 Hospital is your trusted partner. We are committed to delivering excellence in every aspect of our services, from our dedicated staff to our advanced facilities. You can have peace of mind knowing that when emergencies strike, Care 24 Hospital is here to provide the expert care you need. Your health and well-being are our priority, and we are honored to be your choice for emergency and trauma care.